Craving something Crooked? A delicious whole pizza? What about a mouthwatering hoagie? Or one of Sid's garden fresh salads? We want to serve your favorites just the way you know and love! These are difficult times, and we are taking the necessary safety precautions for you to enjoy Crooked Crust. Two Locations: Denton, Texas and Farmers Branch, Texas. Our new Crooked Crust location is inside the StarCenter in Farmers Branch.
Home Of Unlimited Toppings
Feed the Beast Inside with this Denton Staple! Our Mean Green Pizza is topped with 100% Whole Milk Mozzarella Cheese, Basil Pesto, Marinated Chicken, and Quartered Artichoke Hearts.
Bada Bing-Bada Boom Hoagie
Flavors that Make You Say Boom! Our Bada Bing-Bada Boom Hoagie is served with 100% Whole Milk Mozzarella Cheese, Fresh Red Onions, Ken's Lite Italian Dressing, Freshly Sliced Cherry Peppers, Thinly Sliced Canadian Bacon, and Thinly Sliced Pepperoni.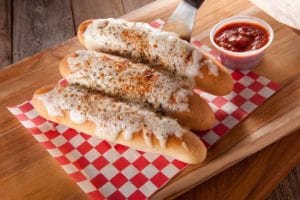 It's Cheese That'll Make You Say Please! Our Cheesy Breadsticks are topped with House Dredge, 100% Whole Milk Mozzarella Cheese, and a side of Marinara Sauce.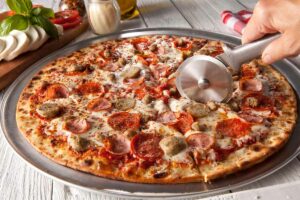 Meet the Meats of Our Meat Me Pizza! This delicious pie is topped with 100% Whole Milk Mozzarella Cheese, Crumbled Italian Sausage, Original Tomato Pizza Sauce, Seasoned Meatballs, Thinly Sliced Canadian Bacon, and Thinly Sliced Pepperoni.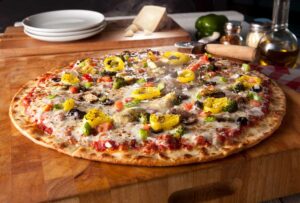 Travel the Road of Many Plenty Veggies! Our Veg Head Pizza is topped with 100% Whole Milk Mozzarella Cheese, Fresh Bell Peppers, Fresh Crown Broccoli, Freshly Sliced Mushrooms, Original Tomato Pizza Sauce, Quartered Artichoke Hearts, and Ripe Black Olives.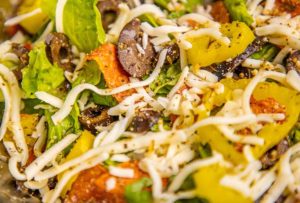 When in Rome, Do as the Romans Do! Our Italian Salad is tossed together with 100% Whole Milk Mozzarella Cheese, Fresh Banana Peppers, Fresh Romaine Lettuce, Ken's Lite Italian Dressing, Ripe Black Olives, and Thinly Sliced Pepperoni.
Bites that Feel Just Right! Our Brownie Bites are made with Pure Melted Chocolate and loaded with Chocolate Morsels. Add Dessert Chocolate Fudge, Dessert Cream Cheese, and/or Powdered Sugar if you are having an extra sweet tooth!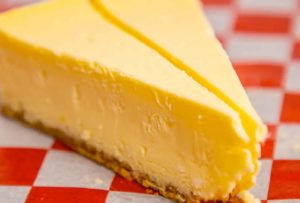 New York! New York! Our Original Cheesecake is a Plain New York Cheesecake made with only the finest of ingredients: Cream Cheese, Pure Vanilla, Sugar, and Whole Eggs. This smooth and creamy cheesecake is sure to become a Crooked favorite!
★ ★ ★ ★
This restaurant is my favorite place. Of all restaurants I know I like it most. I always suggests to my friends to go to that place. everytime I I need a delicious meal, this restaurant comes instantly to my head. superb and diverse food and a large list of dishes.great staff, and pleasant atmosphere. Also important, the pay is good. I praise this restaurant with great pleasure.

Walter Taff
Great pizza. They are social distancing. Get your to go.

Bill Garst
★ ★ ★ ★ ★
★ ★ ★ ★ ★
The pizza was reasonably priced. I loved that I could get unlimited toppings because I hate having to narrow it down to just a few. I did a build your own pizza. It was thin crust, flavorful sauce. I didn't care for the atmosphere, given the seating area is closed right now... It was also quick to have my pizza, 10 minutes or less.

Janna Pollens-Voigt
★ ★ ★ ★ ★
Longtime favorite around Denton, great discounts & the food is always delicious, they have something on the menu to fit just about anyone. I usually make my own pizza these days but I still visit a handful of local establishments for their specialties.

Mike D
love it here. The pizza is cheap and tastes great! You can get two slices and a drink for $7 or four slices and two drinks for $12. My favorite is the white pizza with cream cheese put on it. The place itself is on a busy street and can be kind of hard to find parking, but I think it's worth it. The inside has a cool mural and a good amount of seating. The employees are really nice, too!

Shelby E.
★ ★ ★ ★ ★
★ ★ ★ ★ ★
first, not sure where you can pay $7 and get 2 slices and a drink... but then to have it be unlimited toppings of a high quality, with a great crust with awesome chew is astounding. This is the way I like pizza, and it is cost effective to boot. super friendly staff, chill atmosphere, and great location.

Niven Padachy
★ ★ ★ ★ ★
AB-SO-FREAKING-LUTELY love this place! That's all. Go there. Get the pizza. Eat it. Enjoy it!

Shana Willeford
Their New York style pizza with unique toppings is amazing! The customizability is really nice and they have deals during the afternoons on the weekdays! I would not go during the weekends at night though because it's packed with ...people.

Megan Gidcumb
★ ★ ★ ★ ★
★ ★ ★ ★ ★
Amazing pizza and customer service!

Taylor Reynolds
★ ★ ★ ★ ★
Pizza was really good. I appreciated that toppings were included/unlimited. I don't eat meat and hate paying $1.50 for each veggie. Service was fast and friendly.

Amanda
Went with a largeish group for a post-graduation celebration, and everything was excellent! Pizza was tasty, staff was friendly and accommodating. Looking at the menus it also looks like they have some great deals daily and special "happy hour" style offerings during the week. Definitely recommend!

Aubrie Jenkins
★ ★ ★ ★ ★
★ ★ ★ ★ ★
As a college student the prices are really good for what you're getting. Their chicken bacon ranch pizza is the BEST pizza I've ever had. It's in a great spot and I just like it all around.

Jacqueline Swann
★ ★ ★ ★
This place is great every single time, but my last visit was truly exceptional. I've never had an employee be rude before, but the employee I interacted with went above and beyond the normal treatment I assume most people get. He was a super nice guy and fun to talk to. I will be returning. Try the Jalapeno Popper pizza if you're unsure of what to eat.

Alexander Luette
I like the warm and homemade pizza taste that was presented to me. I enjoyed the crispy crust and sizes of the slices 👍👍👍

Edgar Lopez
★ ★ ★ ★ ★
★ ★ ★ ★ ★
Excellent pizza. I enjoy the ability to order 1/4 and 1/2 slices so that getting an entire pizza is not necessary if you are eating on your own. Great place for UNT students and general public alike if you are looking for some good pizza. It's a small shop but it's close proximity to UNT's campus can give students the opportunity to take their pizza to go and eat on campus.

Ben Smith
★ ★ ★ ★ ★
love this spot. located right by UNT, and actually, arguably the best pizza I have ever had *in texas*. very reasonable pricing too! it's a great spot to stop in with some friends and grab a bite.

Amy New
The place is perfect for a quick pizza. They offer lot of varieties. Guess the only place to find best pizza in Denton. Ever since I got introduced to CC, this will be my first option to have a pizza. The staff are friendly. It gets really busy on the weekends, but it's worth the wait.

Samidi Ghnanendhar
★ ★ ★ ★
★ ★ ★ ★ ★
Great pizza at pretty decent prices, $7 for a drink and a quarter of pizza (enough for one person). I can reccomend the BBQ chicken, fantastic. A staple of Denton

Carsten Stadler
See you in Apogee Stadium this year!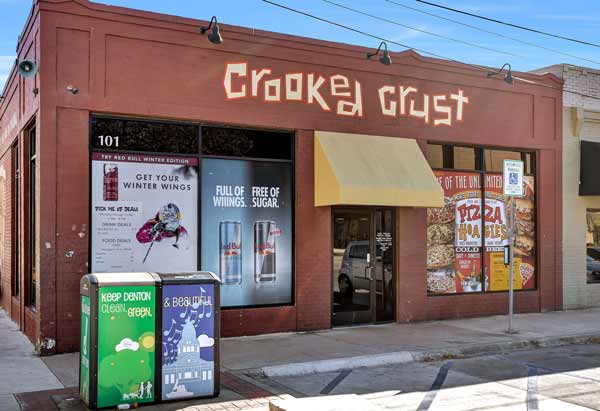 The flagship location in Denton Texas is next to the University of North Texas.